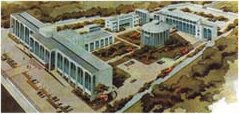 Brazilian Spiritist Federation- Brasília - DF
Brazilian Spiritist Federation, coordinator organization of spiritism in Brazil, established January 2, 1884, headquartered at SGAN 603 Conjunto "F" Av. L-2 Norte - Brasília, DF, with sectional headquarter long established at Avenida Passos, 30, downtown, Rio de Janeiro, RJ, Brazil, is an entity that aims no profit, dedicated to the study, practice and dissemination of the Spiritist Doctrine.
It's organizational structure encompasses an Editorial and Printing Department located at Rua Souza Valente 17, São Cristovão, Rio de Janeiro, RJ, in charge of the edition and printing of spiritist books, in several languages.
SPIRITIST ORGANIZATION IN BRAZIL
FEDERATION BRAZILIAN SPIRITUALIST

ADVICE NATIONAL FEDERATE

REGIONAL COMMISSIONS

STATE SPIRITIST UNIONS

ADVICE REGIONAL SPIRITIST

ALLIANCES MUNICIPAL SPIRITIST

CENTERS SPIRITUALISTS

| Português | English | Español | Français |
| International | Brazil | Doctrine | Gospel | Dissemination | Esperanto | Links |